As a poor orphan boy, growing up in the streets or St. Louis, I found meager sustenance by selling pictures taken on disposable cameras. I learned to find art in the most obscure…ok ok, that's all bull. I actually sold hand drawn pictures using napkins and condiments I found in the trash. Come on, you know that got you.
I have not always been a photographer; a good portion of my adolescent years were spent studying music. It wasn't till I met my wife that I found my calling and love for photography. She inspired me to pick up a camera, as she had a dream, herself, of developing a business around her childhood passion of the photography arts.
My official training began on our honeymoon road trip when she read me the entire user manual for our Canon Rebel XTi during our 21hr drive to Yellowstone National park. Seven years later, a few road trips more, and I'm still as much in love today with photography…… and her.
After six-years of dabbling on the edge of hobbyist and committed professional, I met my colleague, mentor, and closest friend Shane Michael. Our charismatic personalities blended into a professional matchup of side-splitting proportions and horrible man-bun jokes, (his horrible man-bun jokes). Together, we have culled an artistic vision built upon a foundation of an authentic love for our clients, starting with a genuine interest in supporting the love of family and one another.
Whether a traditional wedding, exotic destination family get away, or an intimate elopement; we approach every session as fathers, husbands, and artists, and vow to treat your photographs with as much care and attention as our own.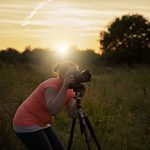 Life with my wife
My wife and I's story started with a simple question, "Who wants to go for a ride in the clown car!?" Having met at the ripe old age of 13, clown cars were still a thing…. I think? Needless to say, any woman who, without hesitation, says, "I'd like to go for a ride!!!" was a shoe in to be my wife. She is strong where I am weak, and her patience perseveres, despite my ability to test them…daily. I'm not sure what I did to make this woman love me, but I am thankful every day for it.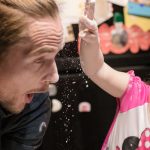 Life with my little girl
As a reckless adolescent, many of my days had been cursed with the declaration, "One day, you're going to have a kid who is just like you!!!" and as much as I'd like to just thank my mother, and the academy for this award, there is a longer list of thank you's I'd have to attach. Seriously, they asked and God delivered, because she is everything I deny ever happening.  Luckily, she's balanced by the rationale and compassion of her mother.  However, when mamma isn't looking, we fill our day with the nutrition of the fifth food group…. candy!!! 
Things you should know about Jay
Sucker for the romantics

Pretty good cook, though BBQ is an art

Voted most likely to have the Blues game streaming at his own funeral

Advocate for all things Man-Bun

Has guitar, will play.  

"Go To cocktail":  Patron, or Tito's with Redbull. Either is going to result in a great time 

"Favorite Movie: "Anchorman" is top contender, however "Boondock Saints" movie quotes do have relevance 

"Favorite Book": If you give a Moose a Muffin and A Tale of Ice and Fire. Though Gulliver's Travels is fair contender  

Pets: Mushu-  The shih tzu; Belle- The American Cocker Spaniel  

Favorite Quotes:
"Give a man a fish, and feed him for a day. Teach a man to fish, and feed him for life." Papa Barney "Pop"
"You ate the entire wheel of cheese?! I'm not even mad, I'm impressed!" -Ron Burgundy